John Michell, born 1933, was educated at Eton and Cambridge and published his first book in 1967.
With "The View over Atlantis" (1969) and "City of Revelation" (1972) Michell helped to change the world-views of a whole generation by illuminating the science, culture and wisdom of past civilizations.
The picture below is entitled The 'faintly shadowed track' to the castle of Astolat in Tennyson's book Elaine, illustrated by Gustave Dor'e.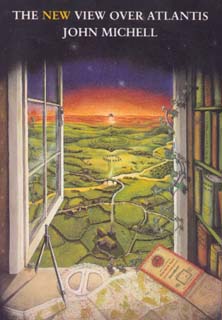 This picture is also illustrated on the front cover of "The New View over Atlantis" (1983) a fully revised edition to Michell's 1969 book.
Michell's "City of Revelation" was summarized and extended with further research in "The Dimensions of Paradise", in which the proportions and symbolic numbers of ancient cosmology are explained.
Michell's book, "Twelve Tribe Nations" and the Science of Enchanting the Landscape (1991), with Christine Rhone explains that throughout the history of civilization and the landscapes of the world the twelve tribe divisions of peoples and the alignment of holy places are depictions of an ideal social order in harmony with nature and the zodiac.
See the John Michell's Art and New Jerusalem pictures